Fere's Hot Strings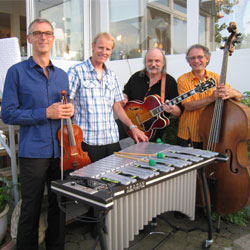 Die ausschliesslich mit Saiteninstrumenten besetzte Formation kann stilistisch als kammermusikalischer Swingjazz bezeichnet werden. Ihr Repertoire umfasst ein feines Destillat aus Swingjazz, Valse Musette, Jazzballaden und Blues.
Der Ansatzpunkt der Hot Strings liegt direkt bei den grossen Urvätern Django Reinhardt und Stephane Grappelli und beim legendären Quintette de Hot Club de France. Ausgehend von diesen Einflüssen formen sie aber auch eine eigene und zunehmend eigenständigere Swingmischung. Äusseres Zeichen dafür ist der Umstand, dass Hot Strings fast ausschliesslich Originalkompositionen spielen, die wie taufrische Standards wirken.
Im Rennen um den SWISS JAZZ AWARD 2009 haben die Hot Strings den sehr guten zweiten Rang erreicht.Um Haaresbreite (7 Stimmen) hätte es zum Sieg gereicht.
Besetzung
Fere Scheidegger
Gitarre / Mundharmonika, Leader
Peter Horisberger
Vibraphon
Tonträger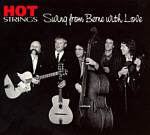 Hot Strings, die unterdessen zum Quintett gewordene Akustische Swing-Jazz Formation, ist in ihrer Besetzung mit zwei Violinen, zwei Gitarren und einem Kontrabass einzigartig!!

Als Gäste auf diesem Album wirkten mit:
Mike Goetz, Vibraphon
Axel Obert, Kontrabass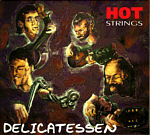 Mit ihrer neuen, fünften Produktion bieten die Berner zwar weiterhin zum grössten Teil swingende Musik in der Nähe von Django Reinhardt und Stéphane Grapelli.

Aber Gäste wie der Akkordeonist Willi Valotti oder der Keyboarder Louis de Saint-Gall helfen mit, das Repertoire in Richtung Musette oder Bossa Nova auszuweiten.  (Radio DRS)

Black Magic Woman - Good Morning - Les Yeux Noirs - Sommerbrise - Timbuktu - Dans le Jardin De Mes Rêves - Swing - Valse - One More For The Road - Lorraine - Pizzicato Blues - Nature Boy - Hot Club Dance - Imagination - Another Kind of Blues - I Can't Give You Anything But Love - Love For Sale - You'd Be So Nice To Come Home - L'Eté Indien.