The Pint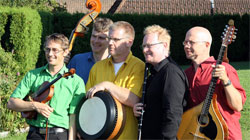 Irland bietet einen riesigen musikalischen Fundus, von dem wir uns gerne und ausführlich bedienen. Dazu kommen unsere individuellen Vorlieben anderer Musikstile, die sich zwangsläufig einschleichen. Zudem sind wir hemmungslos was das covern von guten Songs angeht, egal aus welcher kulturellen Schublade sie stammen.
Das Besondere am Pint-Sound sind die vielstimmigen Gesänge, aber auch die virtuos gespielten und originell arrangierten Tunes. Dank der grossen Auswahl an Instrumenten ist ein abwechslungsreicher Sound garantiert. Zudem hält das ständige Instrumentenwechseln die Musiker fit. The Pint kann im kleinen Rahmen unplugged, also ganz ohne Strom, spielen. Bei grösseren Anlässen spielen wir gerne über das vorhandene PA oder bringen unser eigenes mit.

An folgenden Anlässen/Orten sind The Pint bereits erfolgreich aufgetreten:
Kleintheater, Kulturzentrum, Kirche, Irish-Party, Expo.02, Kulturbeiz, Hotel, Open-Air, Vernissage, Pub, Session, St. Patricks Day, Schiff, Firmenanlass, Hochzeit, Kuhstall, Kino, Geburtstag, Diplomfeier, Gemeinschaftszentrum, Lehrabschlussfeier, Beerdigung, ...

Mit diesen Fahrzeugen wurden die Instrumente von The Pint bisher transportiert:
Schiff, Auto, Kleinbus, Anhänger, Schneeschlitten, U-Bahn, Flugzeug, Handkarren, Tram, Postauto, Bus, Jeep, Eisenbahn.

1988 begann alles mit Reinhold und Tom als "Folk 4 Two". Dann stiess Christian mit dem Bass dazu, später Elisabeth mit der Geige. Weil Elisabeth wegzog, wurde sie durch Paddy ersetzt; Christoph löste später Christian am Bass ab. Seit 2011 ist Brendan festes Bandmitglied, nachdem er schon früher oft als Gast mit uns spielte.
Besetzung
Paddy Stocker
Geige, Mandoline, Gesang
Christoph Meier
Bass, Gesang
Tom Keller
Bodhrán, Gitarre, Gesang
Brendan Wade
Uillean Pipes, Flöte, Gitarre, Whistles, Gesang
Reinhold Möllenbeck
Bouzouki, Mandoline, Gitarre, Whistles,Gesang